Johann Straumfjord Sigurdson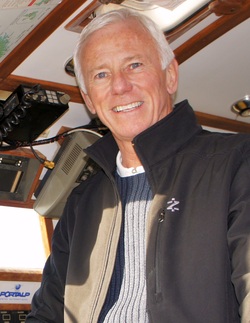 Johann began his life in Lundar, an Icelandic community in Manitoba's Interlake between Lake Winnipeg and Lake Manitoba. This predominantly Icelandic community provided Johann with a deep and rich understanding and appreciation of his Norse roots… and the forefathers that ventured before him across the oceans to make a home in this new land called North America.
The son of community leader who also served as President of the Icelandic National League, Johann was never far from his deep-rooted Icelandic culture. A youth spent pursuing outdoor activities with his family prepared Johann for a career in Natural Resource Management. After graduating from the University of Manitoba, Johann started his professional career as a Biologist for the Federal Dept. of Fisheries and Oceans and finished as a Resource Manager with the Department of Natural Resources in Manitoba. His years spent in the field of natural resource management branched into studies of the environment, environmental impact assessments, and ecology .He has spent years in, on, and around the lakes and Hudson Bay coastline of Manitoba.
Today he lives on Lake Winnipeg, where he still studies mitigation techniques for shoreline erosion and has been an activist in restoration and remedial actions to help minimize the longer term environment effects of commercial developments and climate change.
An avid horseman and polo player, Johann was actively involved in the import of Icelandic Horses for the centenary celebration of the Icelandic Celebration in Gimli, Manitoba.
Johann has spent many years in entrepreneurial ventures including the design and manufacture of a unique line of boats based on his own design. His progressive and innovative designs have endured the test of time with many boats still being used through-out the Canadian Arctic and various lakes around the world. He designed and built 100's of aluminum vessels including a 50 ft.motor sailer for use in the Arctic Char fishery as well as whale watching boats for the Port of Churchill.
Advanced aluminum technology resulted in the design of light-weight, aerodynamic aluminum trailers also marketed around the world. The company was a defense contractor and responsible for many specialized trailers and equipment for the Canadian Military as well as Canadian Police Departments. Holding several patents worldwide in trailer design and technology, Johann has traveled the globe working in technology transfer, consulting in aluminum product manufacturing and product design and development. He is recognized as an expert in horse transport and consults regularly in that field. Johann has used the extremely strong design of the trailer bodies to develop off-road ambulance bodies for the remote Canadian oil and gas drilling industry that exceed federal standards.

Another of the unique products designed by Johann is a polar bear resistant module for use during field research on arctic bears in their natural habitat. He also designed and developed a modernized aluminum komatik (Inuit sled) used in transport of goods across the Arctic. This product is currently in use by such clients as the Canadian military and the Canadian Rangers across the remote reaches of the Canadian Arctic during the winter patrol season.
A life-long adventurer who holds a Commercial Pilots License, Scuba Diving Certifications, Master of Inland Waters Certificate, and various other leading outdoorsman acknowledgements, Johann has never lost the need to explore new territories and concepts.
Johann has set this decade as the time to develop and launch this expedition along with his kindred spirited nephew, David F. Collette to undertake a life-long dream of exploring northern waters in search of presence of ancient Norse passage……but this time Fara Heim!