Mr. Guy Maddin, Adviser for Media and Chief Story Teller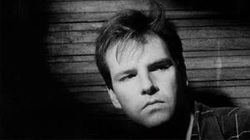 Born in Winnipeg, Canada, Guy's show business career began early when as a child he received a piggy-back ride from the immortal Bing Crosby. Guy grew up in Winnipeg and then studied Economics at the University of Winnipeg. He worked as a bank teller and house painter before settling upon a career as a filmmaker.
Guy's first film was the 1986 16mm short film The Dead Father. His first 16mm feature film was the 1988 Tales from the Gimli Hospital. One of his most interesting feature films is the 2003 The Saddest Music in the World featuring Isabella Rossellini. In 2007, Guy became the first artist-curator of the UCLA Film and Television Archive. In this position, he performs the programming for their new Curated by… series.
Also in 2007, his film My Winnipeg won the Best Canadian Feature award at the Toronto International Film
Festival. While Guy maintains a busy filming schedule he is giving back to students by teaching film at the University of Manitoba.
Guy brings his wealth of experience in story telling to Fara Heim. His role is to guide the Explorers on how to bring the expedition to life for those not on the voyage.