Dr. Graeme Davis, Adviser for Historical Research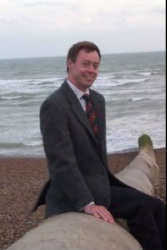 Dr Graeme Davis was born 1965 in Kent, UK and educated at Chislehurst Sidcup Grammar School and the University of St Andrews. He has worked variously as lecturer in English Language & Linguistics and EFL at UK universities. He is an author, academic editor, and researcher as well as Associate Lecturer with The Open University. A specialist in mediaeval language and literature, with interests in the Anglo-Saxons, Vikings, Iceland, Greenland and the North Atlantic, his writing includes also popular history, popular lexicography and the recent book "Vikings in America".
Dr. Davis brings his experience in historical research. His role is to help the Fara Heim team look back through the lens of time to evaluate the known and yet to be found information that will guide the search locations.
Read Dr. Davis' blog at www.graemedavis.com