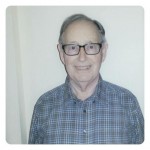 Born in Sussex, England, David emigrated to Canada as a teenager in 1949. Educated at McGill University and the University of London, he became a specialist in the teaching of history and the social sciences at McGill.
For several years, in collaboration with Arctic College, he was involved in McGill's teacher education program for Inuit in the Eastern Arctic Region of the North West Territories travelling to Inukjuak, Kuujjuak, Iqaluit and Igloolik.
David contributed to Ginn and Company's Case Studies in Canadian History, writing The Seigneury of Longueuil, an account of the Lemoyne family and their twelve sons, including Pierre Lemoyne d'Iberville, who eventually became famous as a military leader and the victor in the Battle of Hudson Bay in 1697. David was also Senior Author of Ginn's Canada: Discovering Our Heritage.
In the 1990's he teamed up with colleague, Dr. Chris Milligan, to write Le Pelican and Early Canadian History, a sourcebook and study guide for teachers conducting tours of the reconstructed Pelican anchored in Montreal harbour, before it was sold to American interests. He is also co-author with Dr. Milligan of Check Mate! a fictional story centred on the Battle of Hudson Bay. For him, the discovery of the remnants of the battle on the floor of the Bay, and any associated underwater archaeology, would be a dream come true.
Dr. Smith brings his experience in historical research. His role is to help the Fara Heim team search for the Battle of Hudson Bay ships and his experience in the Eastern Arctic will help search for signs of pre-Columbian exploration.