Capt Norman Baker, Adviser for Expedition Planning and Execution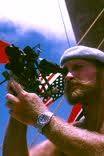 Captain Norman Baker was the second-in-command, radioman, and celestial navigator for legendary anthropologist Thor Heyerdahl on all three of his reed boat expeditions, the two RA voyages and the Tigris.


Captain Baker has an incredibly varied career of adventure. Mr Baker began flying lessons at the age of 13 and flew his first solo at 17. After graduating from Cornell with a Bachelor of Civil Engineering degree Norman's first job was in the gold mines of Alaska, initially as a laborer and later as an Engineer. His second job was in the desert country of Colorado and New Mexico where he staked out the last state boundary in the nation that had never before been surveyed. He also served two and a half years in the Korean War on a destroyer.


After the war Mr. Baker then earned a commercial multiengine pilot license, but instead of flying airlines, he set his sights on the Trans-Pacific Yacht Race starting as a deck hand, rising to first mate and then becoming the Captain of the ship. Not content with staying on the surface of the ocean he learned to scuba dive while working as underwater assistant and celestial navigator for a marine biologist on a
research expedition that started in Hawaii and finished in the South Pacific islands. It was here he first met Dr. Heyerdahl and became part of the Heyerdahl expeditions.
Capt.Baker then returned to New York where he started a construction company with his brother. Not content with keeping his feet on the ground that year he also took up skydiving. Capt. Baker has also been an active member, Fellow and Ex-Director of the Explorers Club. Capt. Baker brings a wealth of practical experience in planning and executing sailing expeditions. His role is to ensure the Fara Heim expedition is safe for the sailboat and crew while effective at the expedition objectives.