David Frederick Collette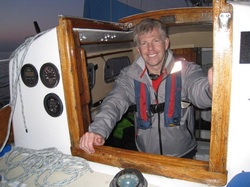 David also has the Nordic sense of experiencing life to its fullest. Born in Beausejour, Manitoba he grew up across Canada the son of an RCMP officer. David spent all his teenage summers working on his Afi's (grandfather) ranch in the rural community of Lundar. He annually attended the Islendingadagurinn in Gimli, Manitoba where he was introduced to his Norse heritage. He has a BSc Mechanical Engineering from the University of Manitoba and an MBA in Finance and Marketing from the University of Chicago.
After graduating from university David was a Pilot in the Canadian Air Force, taught at the Aerospace Navigation School, flew as a Captain for a South American airline while living in Curacao and founded several tech start-ups. He has worked with Unilever, Johnson Wax, Cintas and now is President of Substratum Group. He is married to Nicole Collette and has a daughter, Mackenzie.
David has a passion for testing his limits via outdoor sports and has actively participates in ultramarathons, scuba diving, mountaineering and sailing. He has spent the last decade honing his offshore sailing skills while living on the shores of Lake Michigan. He is a Fellow of The Explorers Club. He is an active member of the Great Lake Solo Society and among other races won his division while competing in the Solo Mackinac Island race completing the sail in 96 hours. He is a Past Commander in the United States Power Squadron, a Navigator and Instructor. He is now looking over the horizon to find the wind in his face as he puts miles under the keel of a sailboat on an expedition to find Norse presence in the Arctic and voyage like his ancestors.