Here are some images of the Hudson Bay area.  The polar bear in the picture was on the island we anchored and spent the night at.  He was a very gentlemanly bear and, while very curious to see who his new neighbors were, he didn't seem too upset.  Both the team and Bear got a little surprise though when he came swimming around the island to the boat.  We didn't seem him until he stood up in the swallow waters (tide was almost out) and he didn't see us sitting there until we yelled "Bear" (and he was 60 feet away).
There are a lot of wrecks up there and we visited as many as we could.  The wreck in the image was the dredge the Canadian government used at the Port Nelson port until a storm broke the boat's back.  The terminal sits in the open at the bottom of Hudson Bay.  When we were there we rode the 14′ tide up and down and got to walk around the bottom of the bay for several hours.  Our bear buddy was there but he decided to go find his seal and left us alone.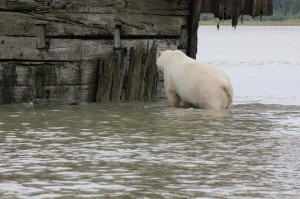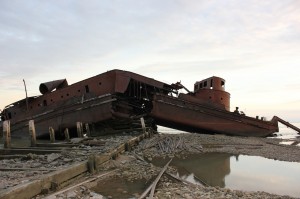 There were a lot of bears.  One time we counted 13 bears together at once.  They are very well fed on seals.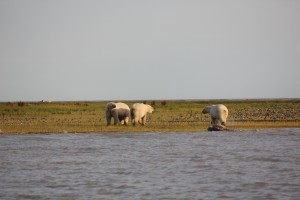 York Factory has been the gateway to North America from the North for over 400 years.  French and English alike fought to own this area.  The first European to see Buffalo and the Prairies walked from York Factory and back to write about it.  Did the European explorers follow old Norse routes?  That's what we want to find out.
This photo is the main building of York Factory.  It used to be the center of the fort but river erosion has eaten the bank.  The original York Fort is actually the middle of the Hayes River.  While the bank is eroding things are now falling onto the shore.  We saw a 5 foot tall anchore popping out of the soil and about 800 feet behind where we were taking the picture of the building is a cemetery that is slowly falling into the river.  We found some show leather and (I'm  not a medical person) some bones that looked like spinal bits.  There is a lot of scrap on the beach and the Parks Canada people have been collecting cannons, cannonballs and all sorts of artifacts off the beach for decades.  There is a hunting lodge on the shore of Hudson Bay that even found a full-sized cannon barrel.  Probably from D'Iberville.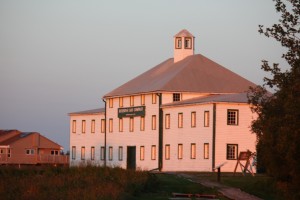 We also just missed the Prime Minister of Canada by two days.
0 comments Saturday 20 Oct 2012 | David | Expedition Diary
Leave a Reply